When it comes to your office, aesthetics and comfort levels can impact efficiency and the overall morale of your team. For example, a Business Insider article stated that a comfortable workplace can increase employee productivity by as much as 20%.
If you're in a temporary space or don't have significant capital to invest in beautifying your space, these seven ways to glow up your office are a great place to start.
Fresh Paint
Interface Flooring Systems, Inc., BASF Corporation, and the International Interior Design Association conducted a study to test the productivity of workplace efficiency in relation to color schemes and office aesthetic. The test consisted of an all-white environment, a vibrant red environment, and a pastel blue environment.
In summary, the "findings suggest that a color scheme alone may impact mood. Surprisingly, though, mood and productivity were not related to each other." Article author Nancy Kwallek, Ph.D., concluded that personal traits, specifically distractibility, may lead employees to perform better in one type of environment versus the other, making it difficult to use a one-size fits all approach when planning your office environment. Instead, providing a variety of settings may boost your employee's performance.
While it's not always feasible to provide a multitude of environments due to space or functionality, one certain thing is a fresh coat of paint can help make the room feel cleaner.

Fix the Ceiling Tiles
The presence of water where it shouldn't be can be very destructive— and even when caught early and repaired, it can leave a permanent reminder that can impact the perceived value of your space and environment for your employees.
Replacing water-stained ceiling tiles is one of the cheapest and easiest ways to upgrade your office aesthetic. Many corporate ceiling tiles can be replaced for under $1.50 per square foot and without special equipment or prior experience.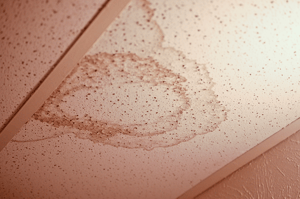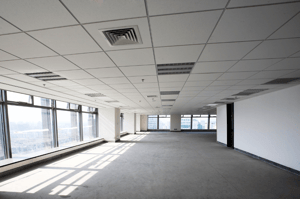 Change Out the Yellow Light Bulbs
While you or your contractor are fixing the ceiling tiles, it might be worth your effort to swap out the lightbulbs as well. Walking through the aisles of a home improvement store, you may have noticed different colors of light bulbs, yellow, white, and blue.
Yellow lights are the most comfortable for the human eye, perfect for relaxing, reading, and lighting your bedroom at home. If you want to boost employee productivity, keep the yellow lights out of the office.
Modern technology, like your computers, laptops, and phones typically use blue light. While blue light does not promote relaxation like yellow, blue light is harmful to the human eye for long periods and can cause permanent eye damage. Since office employees are already exposed to blue light so frequently, we don't recommend adding to it with overhead blue lighting.
White light is the recommended type of light you should implement in your office environment. According to Lumen Now, white light is said to 'help you stay focused throughout the day, improve your performance, and learning.
Add Windows
An even better lighting solution would be to add windows where you can. Natural lighting is healthier than artificial lighting and can boost mood through Vitamin D and serotonin production. Moreover, adding windows can create an open and inviting office aesthetic. Most tenants leasing their space will need landlord approval for these tenant improvements since this is often a structural change.
Invest in Yearly Carpet Cleaning
If you're moving into a second-generation office space, getting the carpets cleaned, replaced, or removed is worth the effort and investment. Soft surfaces hold tons of bacteria; more than likely, that unpleasant smell you noticed when you walked in is coming from the carpet. The longer you spend in an environment, the easier it is to become nose-blind, meaning your office might have an odor you and your team may not distinguish. Still, visitors like clients and vendors might notice immediately.
If you're located in Arizona and you have questions about cleaning, replacing, or removing commercial flooring, Keyser trusts and recommends Troy Wangsness at 480-226-5061, from Alliance Flooring Sales. Alliance Flooring Sales provides free flooring estimates to give you a better idea of what this might cost for your commercial real estate.
If replacing the carpet is not an option, removing the carpet may be. In many cases, below the carpet, concrete lies. Polishing concrete is a trendy option that still provides a professional office aesthetic, especially in the tech or software industries, and costs about $3-$15 per square foot. However, removing soft surfaces is paired with noise concerns. Polished concrete tends to cause an echo effect—but if you want to implement polished concrete into your office space, solutions such as area rugs, plants, and acoustic panels can help capture those bouncing soundwaves.
Refacing the Millwork
Refacing the millwork is likely the most expensive task on this list. Due to the multi-year supply chain issues that started in 2020, the cost of construction materials has skyrocketed. On average, though, refacing millwork will cost 30-50% less than replacing the millwork entirely.
Standardize your Baseboards
Again, if you're moving into a second-generation space, you may notice some pieces of baseboard that need to be added. Since baseboards are priced by the linear foot, prior tenants may not place baseboards when they don't show, i.e., when furniture is placed directly against it. If your furniture plans do not align with the prior tenant's, replacing the missing baseboard would be worth your time and capital investment. Most commercial properties utilize vinyl baseboards which cost less than a dollar per linear foot when bought in a coil.
Are you interested in a more extreme commercial real estate makeover? Keyser's project management team can help you strategize for office efficiency and appropriately implement your vision. For more information on Keyser's Project management services, please email us at info@keyser.com for more information. We would be honored to serve you.