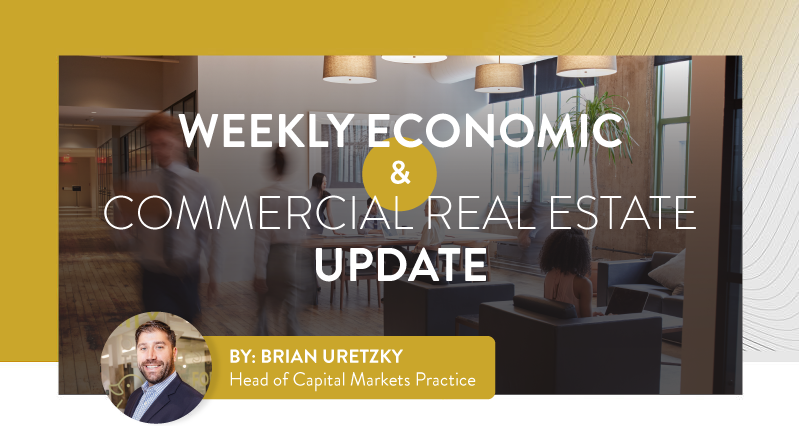 Numerous articles have been written about "the office market recovery" over the past few months. Some of these narratives highlight less sublease space coming to market or the reopening of offices, but do these storylines accurately explain the current state of the office market? The short answer is no.
Not only is the office sector weak, but it should continue to show weakness for the foreseeable future. The reasoning behind this continued weakness is mainly due to two factors—a large amount of available space on the market and the growth of remote working capabilities.
In terms of available space on the market, vacancy rates are currently close to all-time highs: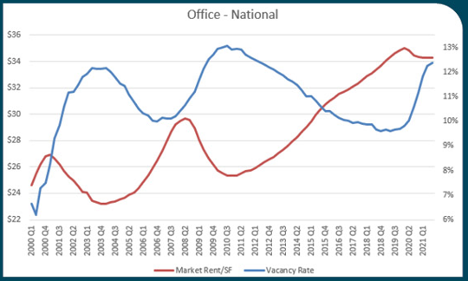 Whenever vacancy rates have reached these levels over the past 20 years, rental rates fell significantly and were much lower than today's rates. This time around, as you can see from the chart above, base rental rates have not decreased much since the start of the pandemic. While this may be true on the surface, effective rental rates have fallen, with many landlords offering several months of free rent. According to REIS, there is approximately a 20% difference between asking rents and effective rents at the moment, a high since 2010.
Despite the stability in base rents, it is anticipated that they will fall further. Not captured in vacancy numbers is the record amount of sublease space currently on the market—roughly 172 million square feet. The pre-COVID high for sublease space on the market was close to 140 million square feet in 2009. Since sublease space is typically offered at a rental rate discount of 25-30% less than direct space asking rents, downward pressure on rental rates should continue until this excess sublease space dissipates.
The growth of remote working capabilities has applied additional pressure on the office sector.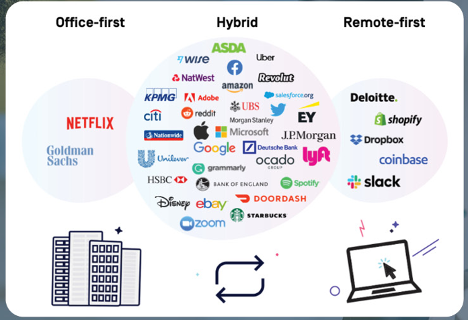 The graphic above (from HubbleHQ.com) represents how most large organizations are responding to the pandemic with a mix of in-office and remote working capabilities. Compared to the "in-office full time" approach, the hybrid model provides cost savings, efficiency, and offers a better work/life balance for many individuals. It allows for in-office activity for training, collaboration, and culture, but also provides flexibility for those who need to tend to personal matters or those who can work efficiently and effectively from outside the office.
Most people want the option to work remotely, and this is true even for employees who like being in the office 60 hours a week. For example, in a survey conducted by PWC in January across 1,200 employees and 133 executives, 92% of employees and 83% of executives requested some amount of remote work incorporated into their careers.
With many companies now offering this flexibility, businesses that do not offer workplace flexibility may struggle to recruit and acquire talent. The current state of the job market is showing a material lack of skilled labor, and despite millions of people collecting unemployment, there are a record number of job openings throughout the United States. Maybe even more eye-opening is the Labor Force Participation Rate, showing that many people have left the workforce entirely. The current participation rate stands at only 61.7%, near the low of the past 40+ years:

With a lack of available labor, we're seeing rising wages and employers offering new incentives to acquire talent, including remote work capabilities. Having remote work offerings is not only an employee perk, but it also allows an employer to pull talent from other regions, a necessity in today's market where finding employees is becoming more challenging.
Another byproduct of rising wages is that companies may cut costs in other areas to manage their bottom lines. Real estate costs are typically the second largest expense for businesses and lease rates remain near historic highs. With remote capabilities so mainstream now, shrinking office footprints and cutting real estate costs become attractive options for many organizations. In addition to the glut of office supply on the market and growth of remote working capabilities, wage inflation may lead to further upward support for vacancy rates and downward pressure on rental rates moving forward.
From my perspective, be wary of articles highlighting that the office sector is recovering strongly. Inherently, there is less of a need for office space today than what we are used to seeing. The office sector is by no means dying, but it is going through a contraction that will likely take years to play out.