Commercial real estate decisions significantly impact a company's operations, financial health, and overall success. As a C-Suite leader, navigating the complex landscape of real estate requires a comprehensive understanding of critical factors, trends, and strategies. This guide aims to empower you to make informed decisions that align with your organization's goals and drive growth.
What Are the Financial Implications of Your Commercial Real Estate Decision?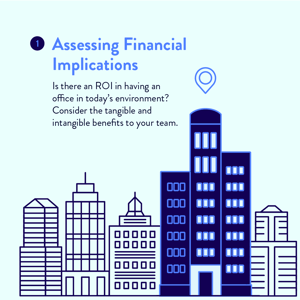 When it comes to making decisions about commercial real estate, it's essential to take the financial implications into account. Consider whether it makes more sense to lease or buy, calculate the total cost of ownership, determine your return on investment (ROI), and use financial strategies to make the most of your commercial real estate portfolio. These factors are vital to making informed decisions that will help you achieve your goals in the long run.
Is there an ROI in having an office in today's environment?
In today's post-pandemic environment, the ROI of having a physical office space is a topic of intense scrutiny for businesses. The pandemic has brought about a significant shift in work dynamics, with remote work becoming more prevalent and widely accepted. Companies have witnessed the benefits of remote setups, such as increased flexibility, reduced overhead costs, and access to a broader talent pool. As a result, many organizations have opted to downsize their physical office spaces or even embrace fully remote operations. However, it's essential to recognize that certain industries and job roles still benefit from in-person collaboration and team synergy. Finding the right balance between a remote and physical work arrangement is crucial. Additionally, office spaces have evolved into more dynamic, flexible environments that promote collaboration, creativity, and employee well-being, making them valuable assets for fostering company culture and innovation. Ultimately, determining the ROI of an office in today's landscape hinges on an organization's specific needs, industry context, and ability to adapt to the evolving demands of the workforce.
What Are the Market Trends and How Will They Impact My Decision?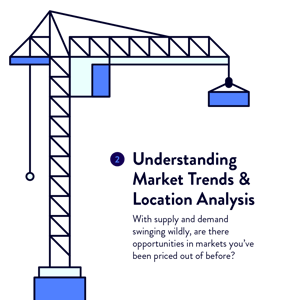 Understanding market trends and conducting location analysis' are critical factors in making informed decisions within the commercial real estate sector. Market trends encompass various economic indicators, supply and demand dynamics, and demographic shifts that influence the demand for commercial properties. Staying updated on these trends helps tenants identify lucrative opportunities and potential risks. Furthermore, location analysis involves evaluating the geographical context of a commercial property, considering factors like accessibility, proximity to major transportation hubs, local amenities, crime rates, and the surrounding business environment. A prime location can significantly impact property value and your team's experience. By combining market trend analysis with location assessments, stakeholders can easily define if there is an alignment between brand goals and market opportunities. This proactive approach maximizes the chances of success in the commercial real estate market.
Does My Chosen Location Align With My Talent Recruitment Strategy?
Recognizing that location can be a significant cultural factor is pivotal in recruiting and keeping talent. The cultural attributes of a specific area, such as its diversity, lifestyle offerings, and overall ambiance, can significantly influence the appeal of a commercial property to prospective tenants or employees. Understanding the cultural dynamics of different locations enables stakeholders to strategically position their investments to attract the right talent and businesses that align with the unique characteristics of each area, fostering long-term success in the competitive commercial real estate market.
How Can I Optimize My Space to Attract Talent and Increase Productivity?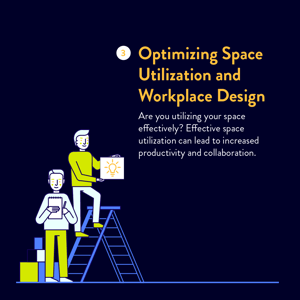 Efficient space utilization isn't just beneficial to the bottom line; it fosters productivity, collaboration, and employee satisfaction. Companies can leverage project managers or architects to help them adapt to evolving business dynamics and accommodate various teams by utilizing innovative design concepts such as open floor plans, flexible layouts, and multi-purpose spaces.

Unfortunately, moving into a new space with new dimensions, themes, and color schemes may also mean your old office furniture may need to be updated or replaced to function or fill the environment appropriately. Implementing innovative technology, such as sensors and automation, further enhances space efficiency by monitoring usage patterns and adjusting amenities accordingly. Additionally, incorporating elements that promote employee well-being and collaboration, such as green spaces, breakout areas, and natural lighting, boosts productivity and contributes to positive work culture. Ultimately, successful space optimization and workplace design not only attract top-tier talent and make them more efficient in their functional roles.
Am I Setting Myself Up for Successful Lease Negotiations?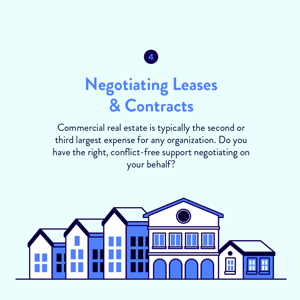 A recent article in Forbes from Keyser founder Jonathan Keyser highlights key points for tenant lease negotiations. Lease negotiations are pivotal in shaping a company's financial bottom line regarding commercial real estate. The terms and conditions established during these negotiations can have far-reaching implications, influencing short-term operational costs and long-term financial stability. A well-negotiated lease can lead to favorable rental rates, flexible renewal options, and cost-sharing agreements that help optimize the company's budget and cash flow. On the other hand, a poorly negotiated lease may burden the organization with excessive rental expenses, hidden fees, and limited expansion possibilities. Moreover, the negotiation process provides an opportunity to align the lease agreement with the company's specific needs, ensuring the space caters to the business's operational requirements and enhances overall productivity. In essence, the outcome of lease negotiations can make a significant difference in bolstering a company's financial health and overall success in the competitive commercial real estate landscape, so choosing your commercial real estate representation wisely is critical.

Beware of the risks of dual representation; ensure there aren't hidden fiduciary obligations restricting you from negotiating the best deal possible. One way to feel confident your broker is truly negotiating on behalf of your organization's best interests is to make sure your representation solely represents tenants, never landlords or developers.
Is There an Opportunity to Embracing Sustainability and Energy Efficiency?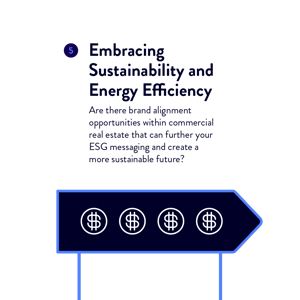 In today's rapidly evolving business landscape, sustainability has taken center stage as a critical consideration for forward-thinking companies. This shift is evident in the increasing popularity of green building practices, the widespread adoption of energy-efficient technologies, and the pursuit of LEED certifications. By embracing sustainability initiatives in their real estate strategy, businesses can unlock a multitude of advantages, including increasing their organization's public commitment to ESG (environment, sustainability, and governance):
Integrating green practices can enhance a company's brand perception, showcasing its commitment to environmental responsibility and garnering favor among environmentally-conscious consumers and stakeholders.

Implementing energy-efficient technologies can substantially reduce operating costs, enabling businesses to allocate resources more effectively and enhance their bottom line.

Contributing to a greener future for commercial real estate through sustainable practices aligns companies with global efforts to combat climate change, which positively impacts the environment and society.
Embracing sustainability in your commercial real estate strategy is a wise business decision and a vital step toward creating a more resilient future.


Are You Mitigating Risks and Ensuring Compliance?
In commercial real estate, effective leadership plays a focal role in navigating potential risks and ensuring strict adherence to legal and regulatory requirements. Making sound real estate decisions necessitates a thorough understanding of zoning regulations, environmental impact assessments, building codes, and insurance considerations. Leaders or their chosen representation must be well-versed in the intricacies of these aspects to safeguard their organization's interests. Zoning regulations dictate the permissible uses of a property and any restrictions, while environmental impact assessments assess the potential ecological consequences of a project. Complying with building codes is essential to ensure the safety and structural integrity of the construction. Additionally, having comprehensive insurance coverage is crucial to mitigate potential financial losses from unforeseen events. Your commercial real estate representative must proactively manage risks, diligently monitor changes in laws and regulations, and institute effective compliance mechanisms to safeguard your organization's reputation and bottom line.
Are You Leveraging Technology, A.I. and Data to the Fullest Extent?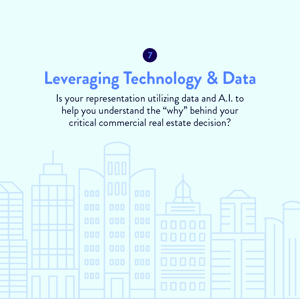 Technology has emerged as a game-changer in the dynamic landscape of the commercial real estate industry, revolutionizing various aspects of the sector. One of the most significant impacts of technology lies in data analytics. Technology's most crucial advantage in this domain is its ability to provide valuable insights for strategic decision-making. The wealth of data collected from various sources allows stakeholders to understand market dynamics, emerging trends, and demographic behaviors comprehensively. With this knowledge, commercial real estate professionals can devise well-informed strategies, seize lucrative opportunities, and stay ahead of the competition. In conclusion, leveraging technology in the commercial real estate industry is essential for survival and critical for thriving in a constantly evolving and competitive marketplace.

There are many questions that C-Suite leaders need to consider before jumping into a commercial real estate decision. Executive leaders, armed with the insights and strategies outlined in this guide, are better equipped to navigate the complexities of commercial real estate. By assessing financial implications, understanding market trends, optimizing space utilization, negotiating leases, embracing sustainability, managing risks, and leveraging technology, you can make informed decisions that align with your organization's objectives and drive success in today's dynamic business environment.

Remember, every decision you make regarding commercial real estate can potentially transform your company's future. With this guide as your resource, you are prepared to navigate the ever-evolving real estate landscape and seize opportunities that propel your organization forward.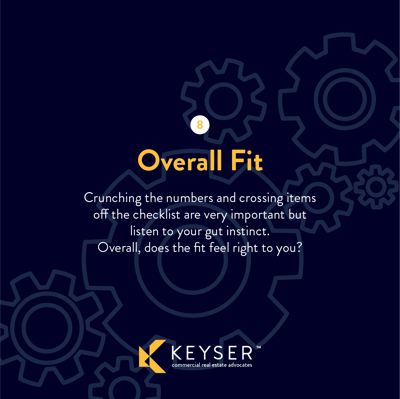 As always, Keyser is here to serve. If you have any questions or want to sign up for a free commercial real estate strategy session, you can do so at keyser.com/lease.