When it comes to retail, you should expect a lot of changes in the upcoming months and years. While some of this was brought on by the pandemic, much of it was to be expected regardless. The pandemic simply sped up the innovation process for many retailers because they were forced to think of solutions that worked for a socially distanced consumer. While the main shock factor of the pandemic is past us, some of the changes will remain. If business owners have learned anything during these last 18 months, it's that convenience is key. Consumers have come to expect convenience and if you can't provide that as a retailer, your revenue and foot traffic will likely struggle. As someone who works closely with retailers, franchisors, and franchisees, I've noticed three strategies retailers are implementing that will affect their customer experience, processes, and commercial real estate.

1. Retailers in the fast-casual dining category will expand their offering model to include drive-through, takeout and to-go options.
You certainly experienced the discomfort of dining out in 2020 and into 2021. When restaurants were only able to provide service at 25% capacity, business owners were forced to figure out ways to innovate and find new income streams. For some, that meant offering free delivery, or curbside pick-up. Going forward business owners will be cautious about seeing a situation like this occur again.
To solve this type of issue in the future, some businesses will choose to re-zone and build a drive-through or will favor relocation options that offer that amenity. You'll see a lot of fast-casual dining options start to offer a drive-through experience. Not only will this protect them from a situation where consumers are not permitted to be within a space, but it will also make it more convenient for customers who have gotten used to the over-the-top service that was commonly seen during the peak pandemic months.
Here's the limitation; because of zoning regulations, there can only be a certain amount of drive-through concepts per parking lot. Think about popular drive-through options like Chick-fil-a, In-n-Out, and Dutch Bros. When you have multiple concepts next to each other with highly trafficked drive-through windows, the ingress and egress, or flow of the traffic become a nightmare. For businesses that find convenience to be a necessity for their consumers, designating certain parking spots to act as online or mobile pick-up can certainly do the trick. Want to see this in action? McDonald's has a perfect example of curbside delivery.
Businesses that don't have a rezoning option available to them are still not without options because despite the limitations and restrictions, many restaurants, as we've seen during the pandemic, are resilient and clever. While takeout and to-go choices sprung up as options for many sit-down, classic restaurants, that trend is not going anywhere any time soon.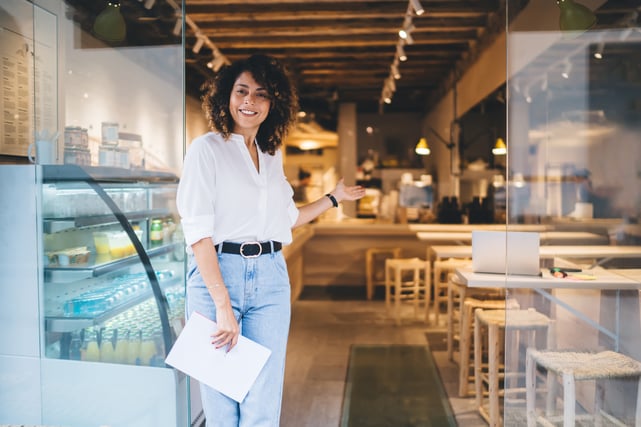 2. Retailers Will Place A Greater Focus on the Customer Experience
Again, convenience is key to today's consumers. With a rise in e-commerce and same-day delivery services such as Amazon, something that once was treated as a ritual, going to the mall or shopping at a store for a product is not as common as it once was. The concepts that will continue to drive foot traffic though, are largely going to be experience-based. These experiences can't be provided online, can't be delivered, and won't be the same anywhere else, except within the concept itself. This goes for fitness concepts, restaurants, and entertainment.
While you do have companies trying to challenge this idea such as Peleton, and RedBox, the experience at home just doesn't measure up to the live experience in a spin studio or a movie theater. Moreover, there will be significant limitations on the businesses that choose an experience-based concept. These concepts have opened themselves up to a much larger pool of competitors. Let's use the example of a spin studio, not only are you directly competing with other spin studios, but you're also competing with every other experience within that vicinity regardless of a direct product or service comparison.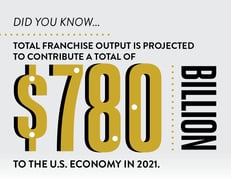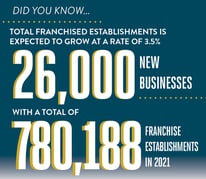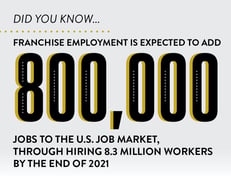 3. Retailers Will Lean Into Franchising.
The International Franchise Association (IFA) claims that the franchise industry is expected to add more than 800,000 U.S. jobs by the end of 2021, totaling 8.3 million jobs nationwide. According to data shared to webinar attendees by the International Franchise Association (IFA), this will be the largest yearly growth in franchise establishments ever. This growth equates to 26,000 new franchise businesses in 2021, increasing the total number of U.S. franchise establishments to 780,188.
Whether you're a multi-unit franchisor or a retailer, Keyser's Franchise Real Estate Department is here to serve. With so many changes in the economic environment, there is likely an opportunity to gain leverage as a tenant. To serve our Keyser Community, we're offering free lease reviews to uncover your commercial real estate negotiating leverage and find opportunities for you to optimize your strategy.