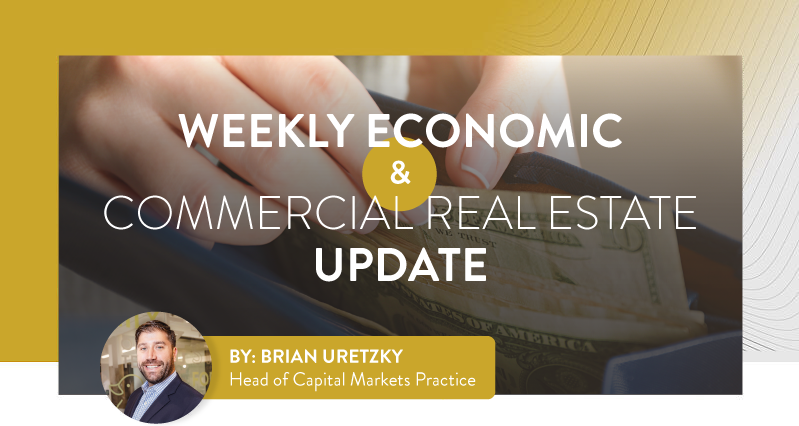 Numerous property types across the commercial real estate sector remain challenged due to the growth of remote capabilities, rising vacancy rates, and material changes in both spending and lifestyle habits. Many have been hoping for a quick recovery, but some pressures appear longer term in nature. Using the office sector as an example, vacancy rates are almost back to all-time highs on a national level despite limited movement in base rents: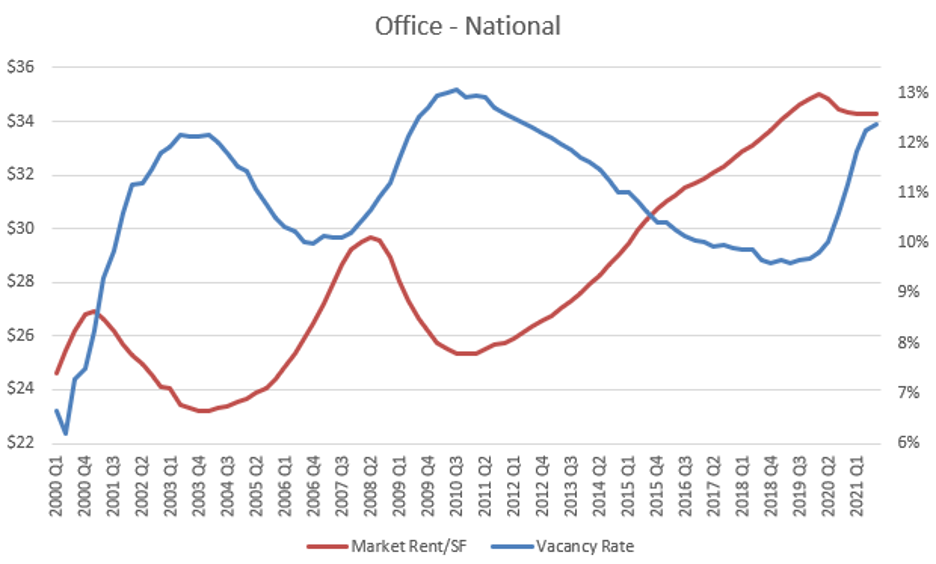 While there was hope for a Labor Day boost across the office sector, the Delta Variant has delayed reopening plans for many office users. As it stands right now, office usage remains less than 50% of pre-pandemic levels across most large cities, and many employees continue to push for permanent remote working flexibility and work/life balance. A recent survey by PricewaterhouseCoopers shows that 41% of employees surveyed in August would like to work from home full time, up from 29% in January. For context, this survey spanned 1,200 employees and 133 executives across the country.
For employees who want to be heard, it appears there is a growing number of employers willing to listen. Economic data continues to show a lack of available labor, and if businesses want to attract and maintain talent, keeping employees happy is becoming a larger priority across today's workforce. Recent reports like September's Payroll Report and the Bureau of Labor Statistics' Job Openings and Labor Turnover Survey (JOLTS) both support the idea that employees are gaining more control.
According to September's Payroll Report, although 235,000 jobs were created in August and the unemployment rate fell to 5.2%, the report also showed a lack of available labor compared to the pre-COVID era. The Labor Force Participation Rate remains at 1970s levels, and we have yet to see material improvement over the past 14 months:

September's Payroll Report also showed that this lack of available labor continues to push up labor costs for businesses. Average Hourly Earnings rose .6% on the month, which may not seem like a lot, but the historic monthly average going back to 2006 is only .2%.
Adding additional pressure on the labor market has been the record number of job openings across the United States. According to the JOLTS report, we hit another record high for job openings with an estimated 10.9 million jobs currently available across the United States:

Beyond the growing employee desire for more workplace flexibility, wage inflation can affect commercial real estate in negative ways as well. If office users are continually battling rising input costs, they will likely need to either raise the prices of their goods and services or cut costs in other areas. Real estate is typically the second largest expense for office users. With remote capabilities like video conferencing more readily available, the need for office real estate is lower today than at any point in history. For this reason, ongoing wage inflation could have an additional weakening effect on tenancy moving forward as office users cut real estate costs to combat higher employee costs. This can lead to additional pressure on vacancy rates.
The office sector continues to remain in a precarious position, and with vacancy rates flirting with record highs, a further drop in rental rates should be anticipated moving forward.