We're celebrating ten years of service to our Keyser community.

From the twinkle of an idea that we could change the business world through selfless service, to seeing real progress in and around us, we are proud of how it all has come together. More importantly, we're proud of the impact we're making on businesses by providing them unparalleled advocacy for one of their most critical business decisions, their commercial real estate. A big thank you to our Keyser Community for following us on this journey and to the Keyser team for dedicating your expertise and excellence to serving our Keyser Community. For us, we believe 10 years is just the start! We are eager to see what the future holds and grateful for your continued support.

Every workplace is filled with people who shine, and after 10 years of business, we've truly collected some stars. We've asked them each the same question, "what do you love most about Keyser?" Here's why they think Keyser is the best place to work…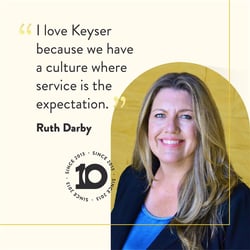 "In most other firms, authenticity and collaboration is missing, but at Keyser, service is the expectation. As a female leader, I gravitate towards that warm type of environment. In the commercial real estate industry, there are a lot of quick deals where you traditionally don't get the opportunity to know your clients and their business. In the past, I've been on teams that told me I spend too much time with clients and did too much work that didn't result in profit, but going above and beyond on their behalf is my natural inclination. Prior to brokerage, I was a nurse. In that environment, everything is focused around serving your patients, so bringing that mindset into my client relationships was natural to me. The mentality at Keyser is different, the camaraderie is different, and it all impacts our client experience. I love Keyser because we have a culture where service is the expectation."
-Ruth Darby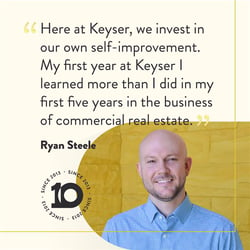 "Here at Keyser, there is a huge focus on helping everyone to grow & develop their skill sets. We've created an environment where sharing best practices and providing coaching allows everyone to improve professionally, and personally. When I joined Keyser, JK's leadership, as well as others, showed me there is a different way to be a leader. From my perspective, there are two different types of leaders, those who talk the loudest and try to take over, and those who inspire everyone else around them to step into their roles and be the best version of themselves. The culture here is different. And you feel it the second you enter the office or speak with a Keyser member."-Ryan Steele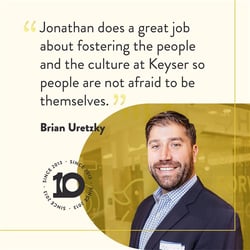 "What I love most about Keyser is the freedom and flexibility that all members get to be who they are. There's a bureaucracy and rigidity to a lot of big organizations and we do not have that here at all. It makes people feel more human in the office and Jonathan does a great job fostering the people and the culture at Keyser so people are not afraid to be themselves."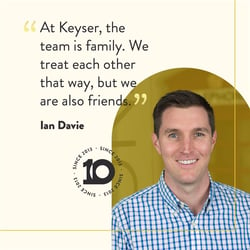 "At Keyser, the team is family.
We treat each other that way,
but we are also friends."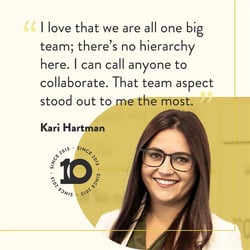 "I love that we are all one big team; there's no hierarchy here. I can call anyone to collaborate. The team aspect stood out to me the most when joining Keyser."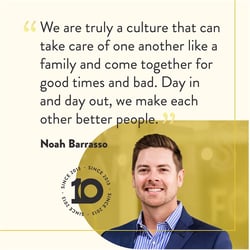 "What I love most about Keyser is we strive to not just better our clients and partners, but also each other. We are truly a culture that can take care of one another like a family and come together for good times and bad. Day in and day out, we make each other better people."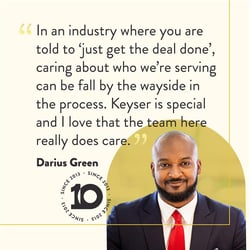 "We take pride in our work and care about our clients and their needs. In an industry where you are told to 'just get the deal done', caring about who we're serving can fall by the wayside in the process. Keyser is special, and I love that the team here really does care."-Darius Green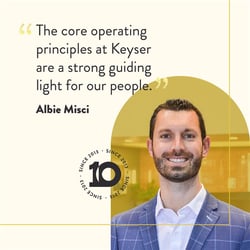 "There are a few things I love about Keyser: the people, the culture, the principles and being tenant-focused. The core operating principles at Keyser are a strong guiding light for our people." -Albie Misci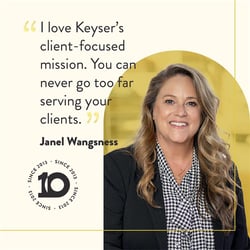 "I love Keyser's client-focused mission. You can never go too far serving your clients." -Janel Wangsness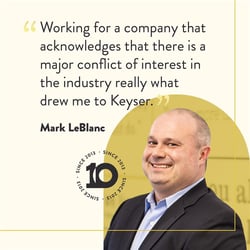 "I always wanted to fight for the small guy; that's my personality. Working for a company that acknowledges that there is a major conflict of interest in the industry drew me to Keyser.
I love the philosophy of selfless service and the type of people that it attracts. Everyone at Keyser is here because they align with that philosophy too, which makes it much easier to go work." -Mark LeBlanc

Thank you again to all the wonderful people who have made our tenth anniversary possible and our future bright. If, after reading what our team members love about Keyser, you feel you're the right fit for our team, check out our application page.