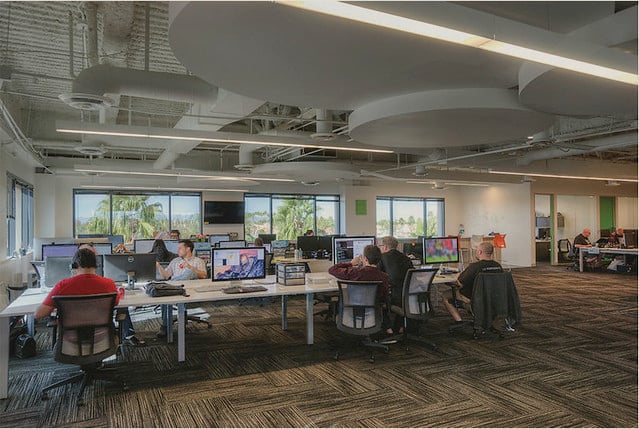 If you are tired of working from coffee shop to coffee shop, it may be time to look into running your business from a shared office space. A shared office space gives you flexibility and lower overhead with the benefit of having a professional workspace.
Here are the top 5 Phoenix shared office spaces for entrepreneurs, startups and freelancers:
1. COHOOTS
Located on Washington Street, COHOOTS' space provides an open, friendly environment where members can network, share resources, and collaborate to expand their business. COHOOT hosts weekly events like workshops, guest speakers, and happy hours to foster their community, social, and educational ideology. The space its self has a modern, updated design with everything a growing business needs including a kitchen, coffee shop, conference rooms, private phone booths for video conferencing, commercial broadband Wi-Fi, and a full-time community director to help with member's needs.
2. Mod
Occupying the first two floors of a high-rise in midtown Phoenix, Mod has a comfortable, urban design with a young and creative atmosphere. Mod provides a workspace, a café, event venue, and a bar for ending those long workdays. The café receives daily raves about the delicious food and the bar has a variety of wines, beers, and food options as well. Mod has a hassle free pay-as-you-go method allowing its members full access to Wi-Fi, a technical support team, printing services, private meeting rooms, and a concierge. Mod currently has plans underway to network globally, providing even further resources and location options.
3. Regus
Regus is a huge corporate facility with over 3,000 locations worldwide. They provide rentable office spaces, business centers, executive suits, and corporate offices. Regus has co-working space, but offers businesses more privacy options than other shared offices spaces. All rentable spaces come furnished with the option of hourly, daily, weekly, monthly, or yearly memberships. The offices located on Tatum offer a friendly staff equipped to handle daily needs and concerns. The space itself has a very clean, professional, and corporate feeling.
4. Union WorkSpace
It makes sense that Union WorkSpace is creative and architecturally focused given that it's located on the second floor of a construction and architect firm. The space has a minimalist and clean vibe open to all professionals with a custom mill and steel work desk and a Herman Miller Aeron chair. The 4-month minimum membership allows members 24/7 access to a workspace, conference room, a wireless Internet, and an on-site notary ideal for those who work unusual hours.
5. CoWorking on 15th Ave
CoWorking on 15th Ave is located off the 15th Avenue bike path just outside downtown that seems to suit their mentality of maintaining a healthy lifestyle. At CoWorking on 15th Ave, members are encouraged to not only work in a spacious and easygoing atmosphere but to also participate in bike riding, hiking, and other active events set up by partnerships. There are also biyearly events that run a weeklong targeted at networking and educating its members.
About KEYSER
KEYSER is a cutting edge, commercial real estate advisory firm that exclusively represents global tenants and corporate space users of office, retail, industrial, medical, non-profit, and educational space. Services include Transaction Management, Project Management, Site Selection, Space Efficiency Planning, Capital Markets / Corporate Finance, Lease Portfolio Services, Strategic Advisory Services, Incentives Negotiation, Demographics, and Subleases / Dispositions.
Contact us to learn more.